The Real Shade (formerly "Shade") is a Toronto-based indie-pop band known for its no-nonsense style, sweet harmonies, and well-crafted songs. The music is honest and spare, but infused with warm light and a sense of possibility.
The band formed in 2007 when songwriter/musician Jane Gowan (Spygirl, Belinda Bruce, Neins Circa) moved from Vancouver to Toronto and teamed up with bassist Mary Harmer (Weeping Tile). Starting essentially from scratch in her new city, Jane saw the opportunity to form a lo-fi rock 'n roll group - something a la Velvet Underground/Kinks/Pretenders. Drummer Cam Giroux joined the band in 2009. The style developed from there, with the organic quality and harmonic charm of Alt Country, Americana and Indie Folk gradually working their way into the sound.
ALBUMS:
Horizon Diaries (2018)
One Last Show of Hearts (2011) - (Shade)
Highway (2010) - (Shade)
CURRENT LINEUP:
Jane Gowan (guitar, keys, lead vocals)
Gord Tough (lead guitar, vocals)
Mary Harmer (bass, vocals)
Cam Giroux (drums)
EXTENDED FAMILY :
Tim Vesely (drums, various)
Don Kerr (drums)
Jon Wood (lap steel, guitar)
Jonny James (electric guitar)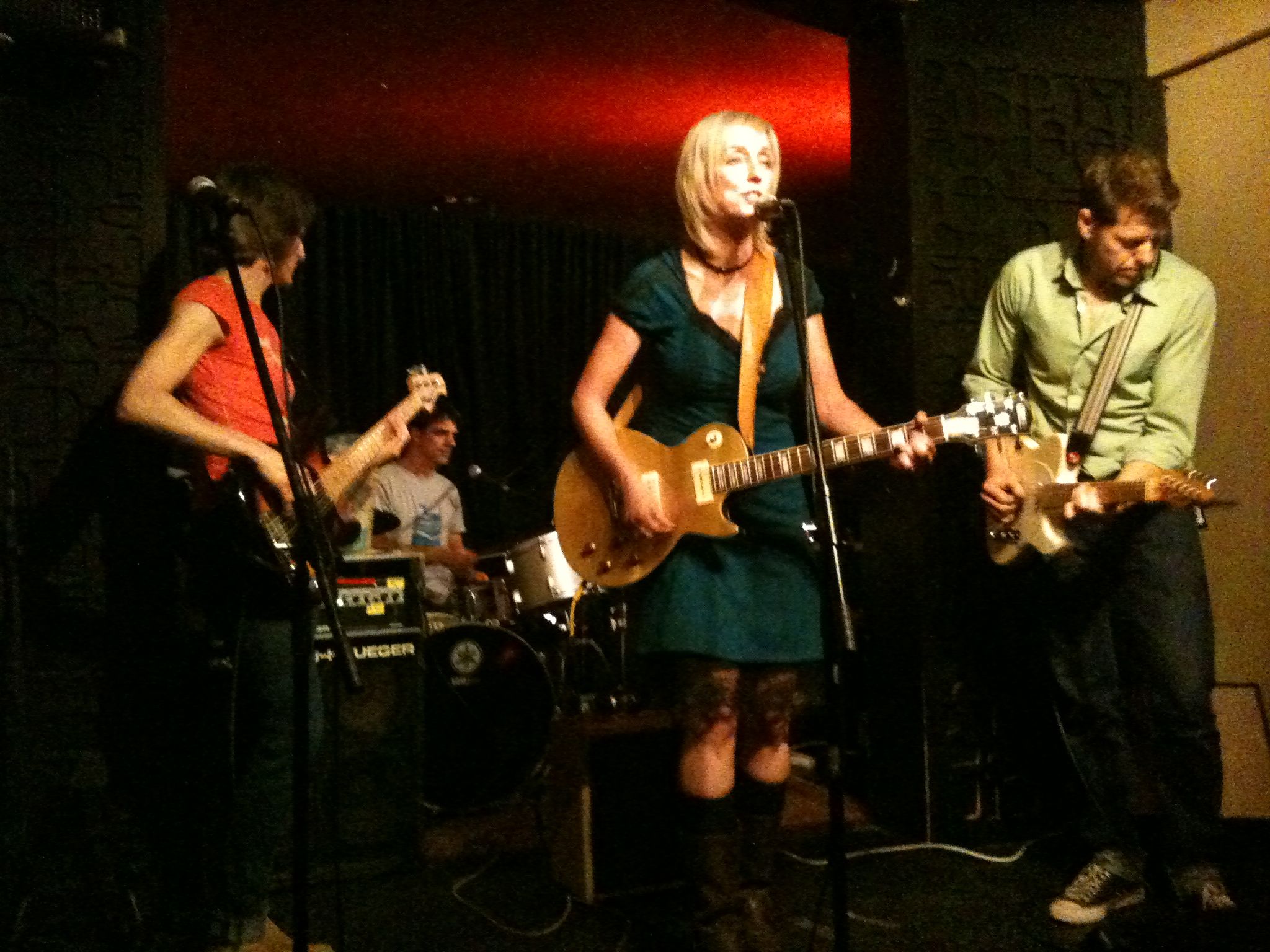 PRESS
REVIEWS: HORIZON DIARIES
"…sweet harmonies and delightfully airy make-up. Straight forward and honest, the band keeps to their formula of fun and engaging emphasis of and for life." — Come Here Floyd
"At the cross roads of stripped-down vintage rock and new school indie pop, you won't find a sound like theirs anywhere else." —The Hippie Historian
"At a point where gentle and drifting Americana meets ambient folk music and discerning indie explorations hook up with the infectiousness of pop, you find The Real Shade and songs such as Moving Gaze. It is a wonderfully lyrical creation and as part of the album Horizon Diaries forms part of a musical montage which explores all aspects of our world." — A&R Factory
"...both the earlier and new albums have that pop sensibility seldom captured in music today. I have heard six of the songs from Horizon Diaries and have already crowned it the best the band has created yet. You will be reading a lot about them in future columns." — Frank Gutch Jr.
REVIEWS: ONE LAST SHOW OF HEARTS
...there should be a home for bands that can so consistently craft smart, crisp pop songs and as long as Shade keeps writing records like One Last Show of Hearts, herohill will proudly yell from the rooftops hoping people to listen.
– Bryan Acker, Herohill*
Through these seven songs, I get everything I could want—melodies which are good enough on their own but are made so much better by the harmonies—songs perfectly fitted to Gowan's perfect/imperfect voice.
– Frank Gutch Jr., Rock and Reprise
...a lovely warm tone and a bit of a vintage feel.
– Tiana Feng, Ride the Tempo
...unexpected hues and intricate instrumental weaves...a smart and witty playfulness
– Jim Di Gioia, Quick Before it Melts
…créative et accrocheuse…très bonnes chansons qui méritent une écoute attentive.
– 500 khz
REVIEWS: HIGHWAY
This one's a no-brainer – listen to Highway.
...Not one note on this compact 10-song, 36-minute record feels forced and that is very, very rare these days.
– Bryan Acker, Herohill
Highway... is a gem. There is something very refreshing and unpretentious about the album and Gowan's songwriting, as simple as it is, is outstanding in that simplicity.
– Frank Gutch Jr., Segarini: Don't Believe a Word I Say
...a surprisingly strong, original effort...professional as hell.
–Todd Sikorski, Skope Magazine
Gowan's lyrics are genuine and real. The music is both polished and raw, as well-produced indie music ought to be.
–Chris Menezes, Suite 101.com
ARTICLES / FEATURES
Music, Canadiana, and Everything in Between: An Interview with Jane Gowan of The Real Shade
The Hippie Historian, September 9, 2018
Catching Some Rays with Jane Gowan
Jimmy Rae, Skope Magazine, April, 2011
Nine Questions with Jane Gowan
Interview with Trevor Rogers, Nine Questions for Musicians (2011)